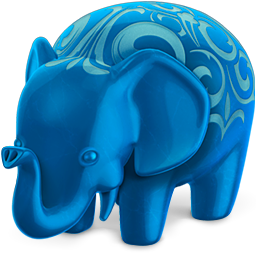 Postgres.app
The easiest way to get started with PostgreSQL on the Mac
PostgresApp contains PostgreSQL 9.6.1 (other versions see below)
Postgres.app runs on OS X 10.7 or later.
Quick Installation Guide
Download
Move to /Applications
Double Click
Done! You now have a PostgreSQL server running on your Mac. To use the command line programs, set up your $PATH. If you prefer a graphical app, check out the list of GUI tools.
If you get an error saying "the identity of the developer cannot be confirmed", please make sure you didn't skip step 2. (more info)
What's In The Box?
Postgres.app contains a full-featured PostgreSQL installation in a single package:
Other versions
Are you looking for a specific version of PostgreSQL? The following popular builds are available:
PostgreSQL 9.3.15 with PostGIS 2.1.8
PostgreSQL 9.4.10 with PostGIS 2.1.8
PostgreSQL 9.5.5 with PostGIS 2.2.3
PostgreSQL 9.6.1 with PostGIS 2.3.0
You can find even more versions on the Releases Page on Github.
Support
The quickest way to get help is to ask @PostgresApp on Twitter, or to open an issue on Github.
When reporting bugs, let us know which version of Postgres.app & OS X you are using, and be sure to include detailed error messages, even if your issue seems similar to another one.
Contribute
Want to contribute to the project? Here are some great ways you can help:
For more information on how you can contribute, email Jakob Egger: jakob@eggerapps.at.
License
Postgres.app, PostgreSQL, and its extensions are released under the PostgreSQL License.
PostGIS is released under the GNU General Public License (GPLv2).
PLV8 is released under the BSD 3-Clause License.
Credits
Postgres.app is maintained by Jakob Egger and Chris Pastl.
Postgres.app was created by Mattt Thompson.